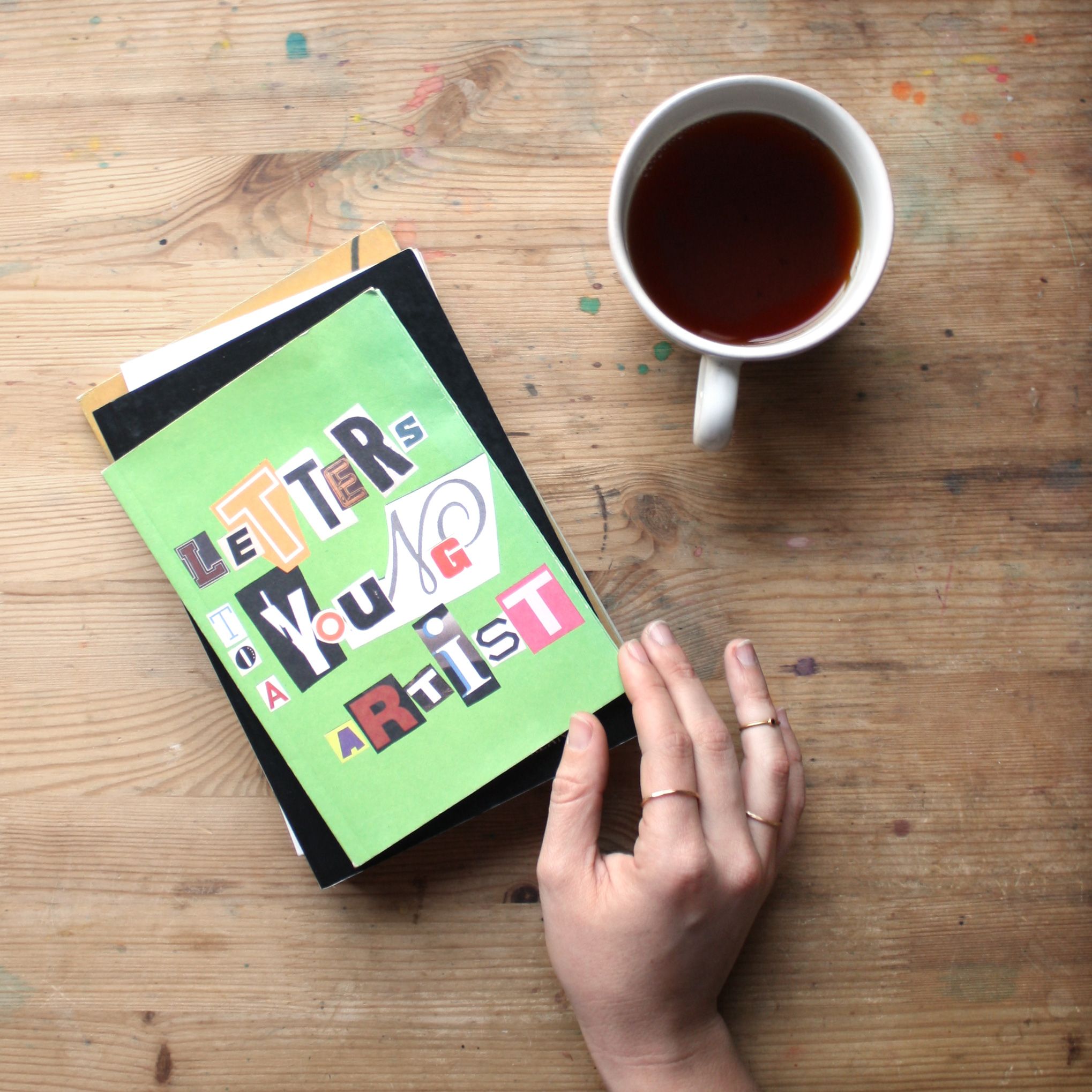 I found my form of communication a long time ago and it's art. Although I never claimed to be a writer, I'm certainly am a reader. I regularly always fail to think of the right words to describe feelings or experience so those that do it and do it well, always impress me. Especially when it comes to artmaking. These books below offer some amazing advice and insight into how to live a creative and artistically fulfilling life and I highly recommend them.
This is the second list of recommended books on artmaking so if you want to add even more to your reading list be sure to check that post out and let me know in the comments if you have any recommendations!
Just a heads up: this post contains some affiliate links, which means if you click through to make a purchase I get a small commission. It's a nice little way for me to supplement my art income while also sharing with you the products and services I really love!
DARING GREATLY
BY BRENÉ BROWN
"Vulnerability sounds like truth and feels like courage. Truth and courage aren't always comfortable, but they're never weakness."
This book is all about having the courage to be vulnerable. Making art and putting it out there for the world to see and judge is nothing if not courage coupled with vulnerability. The author, the amazing Brené Brown, didn't set out to write a book about artmaking per se but by writing about vulnerability you really can't help it. Brown writes, "Vulnerability is the birthplace of innovation, creativity and change." I found so many pearls of wisdom in this book that could be applied in equal parts to art and life.
I've recommended this book to so many people since I first read it, some of them were artistic but most were just friends and family. The lessons within are about opening oneself fully to life's experience and your reaction to them and while that insanely important for all artists, it's also a wonderful lesson to anyone. Watch out though, if you're really taking Brown's words to heart and thinking about their application in your own life it can be an emotional rollercoaster. I couldn't read this book without sometimes taking week-long breaks to digest and move through the learnings. Still, coming out on the other side is enlightening and refreshing.
Buy it here.
LETTERS TO A YOUNG ARTIST
BY VARIOUS ARTISTS
"I believe that art is the articulation of human freedom. Remember, above all, you are the boss, The Boss, of your freedom. No one else. Your art, if it is original and worth something, expands all human freedom… You don't have to shape up to be someone else's definition of 'the artist.' Make it up, make up the whole thing, while you're doing what you have to do to survive."
I picked this book up on a whim when I first moved to New York. The now-defunct magazine Art on Paper compiled a collection of letters to an unnamed young artist from some of the leading contemporary artists of our time. Each artist responds to a letter from this youngster asking for advice and while you never get to read the original letter the responses paint a picture of the young artist's worries: Creating something worthwhile without it being tainted by commercialism, wondering if the ready to show their work when they are still trying to find their voice and the high cost of living in NYC (relatable!).
The responses were as varied as the works of the artist themselves but the major theme that stood out to me was "stop complaining and get back to work!" That's what it all seems to come down to. You change the things that are changeable, work with the things that you can work with and make, make, make with all your heart because that's what really matters.
I think it's out of print now but keep a lookout for it here.
BIG MAGIC
BY ELIZABETH GILBERT
"Pure creativity is magnificent expressly because it is the opposite of everything else in life that's essential or inescapable (food, shelter, medicine, rule of law, social order, community and familial responsibility, sickness, loss, death, taxes, etc.). Pure creativity is something better than a necessity; it's a gift. It's the frosting. Our creativity is a wild and unexpected bonus from the universe."
Elizabeth Gilbert, author of Eat, Pray, Love and other books breaks down inspiration and what it takes to live a creative life. Gilbert argues that the creatives of the world aren't vessels of creation but merely antennas picking up the signal of inspiration and diligently bringing it to life. The only thing stopping creation is you: your attitude, your work ethic, your choice (you can say no to inspiration if it comes a-knockin' and it's not your style).
If you read Books for Artmaking part I where I recommended David P's War of Art, you might remember that Pressfield argues almost the exact opposite. Creation originated in you and all of us are meant to tap into that creation but there is a force with the goal of keeping you from your creative calling. The Resistance tells you that you can start tomorrow or that no one will like it anyway so why bother. It's the artist's job to wake up each morning and battle the Resistance in the name of art.
Now, these two different approaches to artmaking seem at odds with each other but I don't think they need to be. They're both philosophies that externalizing the pressures of artmaking so the artist can focus on doing the work. Think it's all Big Magic when inspiration doesn't come a-knocking and fight the Resistance when the self-doubt creeps in. The best way to do both is to just make the work.
Buy it here.