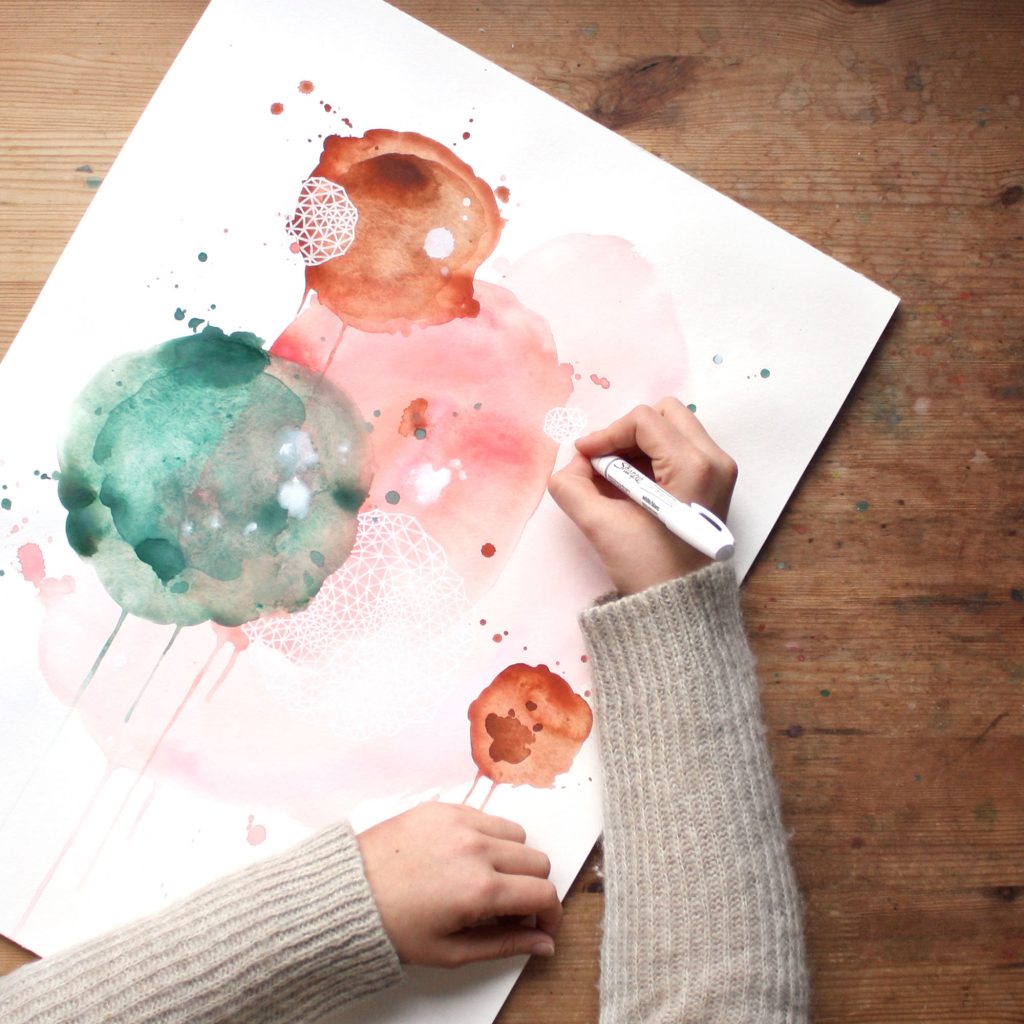 Updated: February 3, 2019
So you want to commission a painting. Hooray! You have this vision for the perfect work of art for your space. The size fits perfectly on the wall, the colors are exactly what you need to complement the decor and when you look at it, you get this magical feeling, one that you can only get when you know that this work of art is one-of-a-kind-made-just-for-you special. You have this vision. But how do you make it happen?
A lot of people have no idea what to expect when they commission artwork from an artist and many are too afraid to ask, so it never happens. Bummer. I wanted to try and answer all of your burning questions about commissioning a painting from me so you don't have to experience that awkward "now what" moment, and together we can make some beautiful art.
HOW MUCH DOES IT COST?
I'll start with the question you really wanted to ask. Don't worry, I totally get it. Art is an investment, but it shouldn't be shrouded in mystery. Custom artwork is my most premium service, but the cost depends largely on size and intricacy. Some of my pieces include detailed work that takes hours upon hours to complete. So, in short, it depends on your vision for your piece. For my work, the average investment can be anywhere from $400 for smaller pieces to $1,550 for the extra-large work.
I ask for a nonrefundable 1/2 payment before I begin, this is mainly to cover supplies and to act as a security deposit for the piece. The rest (including shipping and framing) is due upon completion and your review. Custom work takes a lot of time, planning, and communication. It's more work than the original pieces I create on my own, so the price reflects that.
HOW DO I MAKE IT MY OWN?
Every commissioned piece is made in the style you would expect from me but, along with my own personal touch, the other greatest influence comes from you. I want each custom piece I create to feel like it was made just for you and only you because it was. Literally.
There are the obvious things that you can choose like color and size. Some people have sent me examples of my own work and requested something similar but with new colors, while others have been more freeform. If you want to send me pictures of the house that you grew up in because you want a painting that abstractly reminds you of home, that is 100% perfect too. I am all about creatively interpreting the essence of things, feelings, locations, moments in time, or whatever you can dream up.
No matter the customizations, we will talk in detail about what you are envisioning so when it's time for me to get down to work I will know exactly what you have in mind. Throughout the process, I will touch base with you either to review sketches, compare colors, or share progress photos. All this communication makes it so when the work is finally framed and hung on your wall, you will feel like it's truly yours.
DO YOU OFFER FRAMING?
Yes! I typically use Framebridge to give you a wide variety of framing options that fit your decor. Their frames are high-quality and their service is superb. Plus I get a special artist discount that I pass along to you! Basically, all you have to do is choose your style of framing (Don't worry I'll walk you through it and give you suggestions) and then I'll handle logistics.
HOW IS IT SHIPPED?
All original works on paper are shipped flat and protected with lots of cardboard. The size of the work changes which service I use: USPS for smaller stuff and a professional shipping company for the larger work. International deliveries are very expensive to ship flat so you have the option of having it sent in a tube if you prefer. With every commissioned piece, I get an estimate from the shipper so you'll know all the costs up-front.
If you live in New York City we can arrange an in-person delivery. I LOVE to meet my collectors!
HOW QUICKLY CAN YOU MAKE MY CUSTOM PIECE?
The average time for the creation of a commission is 1-2 months from contract signing. This allows me time to review colors with you, order supplies, and let the paint dry. Faster than that is possible, but you will be charged a rush fee since I will basically work around the clock for you.
WHO OWNS THE RIGHTS TO THE FINISHED PIECE?
The legal answer is basically me, the artist. When an artist creates a work, even a commissioned one, they retain the copyright. There's a lot of murky middle stuff which is explained very well in the Art Law Journal if you want to dive in deeper. Honestly, though, I'm not a lawyer (no matter how many true crime books I read) so all I ask is that you respect my work and if you're about to do something that may be questionable or you're concerned about it, just contact me.
CAN I GIVE YOU A PHOTO OF EXACTLY WHAT I WANT?
Speaking of copyrights… I'm assuming you want to commission a piece from me because you like my artistic style (gee thanks!) so it's safe to expect me to bring that creativity and style to any piece I create. I'm not a copy machine and I will not replicate another artist's work (Please see my blog post Copycat or Why I Won't Paint that for You) but if you have a work you like, can communicate why you like it and you are open to having it interpreted with my own flair please don't be afraid to send that along. There is nothing I want more than to make your art dreams come true.
The same goes for my own pieces. I won't recreate a work I've already made and sold (been there done that). The goal of a commission piece is for us to work together and make something that is uniquely and wonderfully just for you and you alone. Creating a duplicate of past work defeats that purpose.
CAN I RETURN MY CUSTOM PIECE FOR A REFUND?
I have never once had this happen. With all the communication during the commission process, there are plenty of opportunities to pipe up if you feel like a piece is heading in the wrong direction. So talk to me! Tell me if you really had your heart set on more blue or something. If it's within my power I will try to make it work for you.
But basically, the answer is no. When a custom piece leaves my studio it's officially yours. I work very hard to make sure you are not only happy but ecstatic with your new artwork and the best way to do that is open communication.
I'M READY! LET'S DO THIS!!
Okay, that's not really a question but I love your enthusiasm! If you're at all interested in commissioning a piece of art from me the next step is to fill out the request form here or just send me an email at hello@amandamicheleart.com. That's the same email if you have any questions that I didn't answer above. I'm excited to make some art with you!