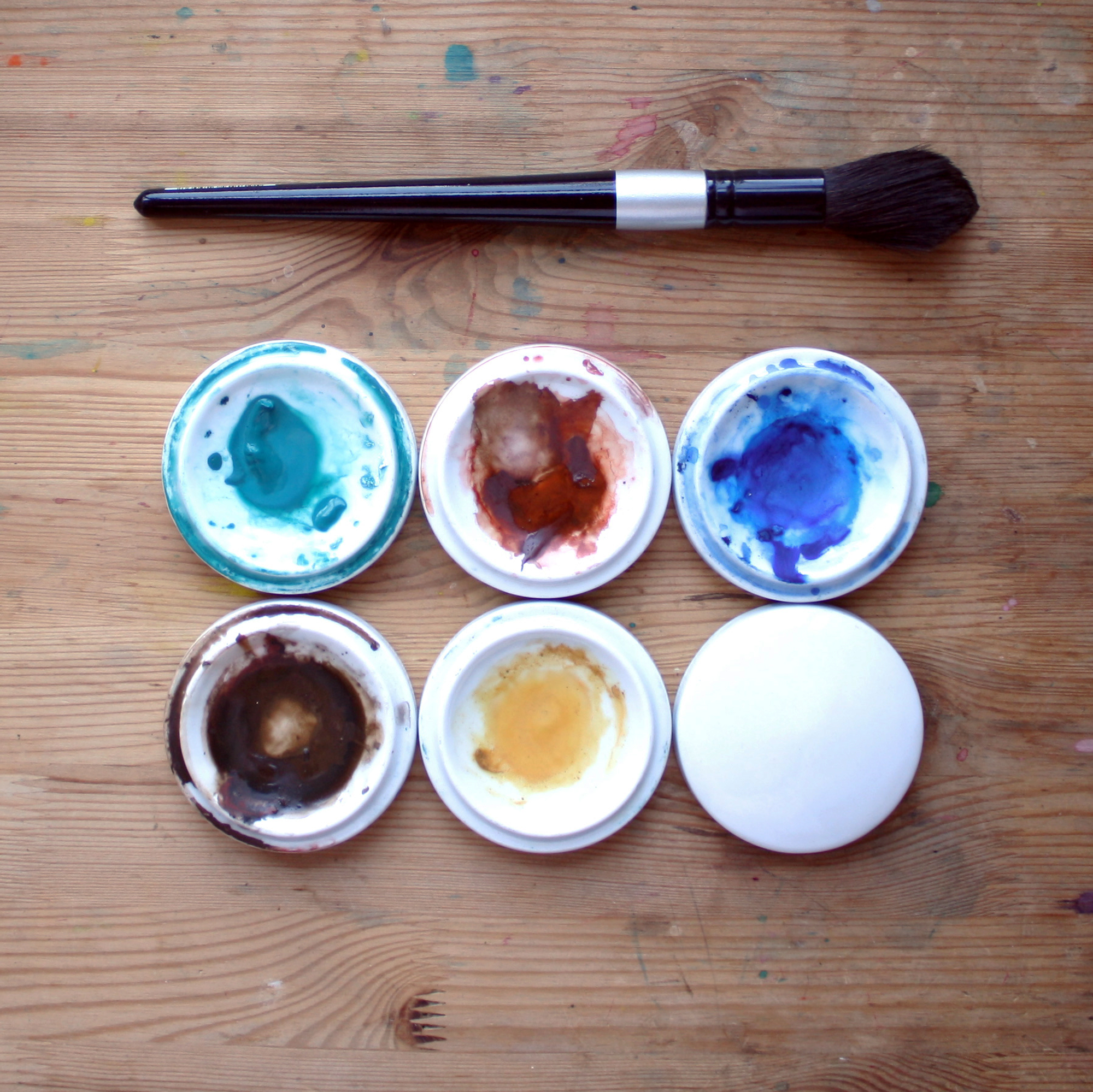 By far the most common question I get on social media is about the art supplies I use to create my work. I'm a firm believer in it's not the tools but how you use them so I'm happy to share my go-to tools of the trade that help me satisfy my creative urges. So below is exactly what is in my art kit plus a little bit of commentary to help explain why I use "this" instead of "that."
I usually buy my supplies from Dick Blick or my local art supply store. The prices at Blick are very good and there is always some sort of promotion/discount going around. Everything arrives quickly, in good shape and, if you need it, their customer service people are pretty friendly. And just so you know, I'm a part of Dick Blick's affiliate program and get a commission you purchase anything through the links below. Please also know that everything below 100% my opinion and exactly the products that I use every day and swear by. Now that we are both clear on that, let's get to the good stuff…
WATERCOLORS
I've tried out a lot of watercolor brands and it's taken me a while to pick out which is my favorite. How watercolor actually interacts with water and the page varies between brands and even colors, so it really depends on the effect you want. For me, I've settled on Grumbacher (either Academy or Finest) because of how most of the pigments handle a wash. They also are really easy to let dry completely and then re-wet on the palette so it feels like you get more paint per tube.
BRUSHES
I'm very hard on my brushes. Probably too hard actually considering how freakin' expensive brushes are. Still, I have three main brushes that I use for all my wash work and they've withstood my abuse surprisingly well. One is Dick Blick's Natural Flat Wash and the other is Winsor & Newton Series 295 Flat Wash. W&N is a mix of natural and synthetic hair but I still love it even though I tend to prefer natural most of the time. My newest (and most favorite) brush is Black Velvet Jumbo Round and it's just as sexy as it sounds. This beauty does some big, luscious wash work and I'm basically obsessed with it.
MASKING FLUID
For work like this or this, I use something called masking fluid or resist. The way it works is pretty simple. Masking fluid creates an impenetrable layer that your watercolor can't get through. So if you want to leave a part of your painting paper white or just want the layer below to show through your paint on masking fluid. After it fully dries you can paint over it without worrying about it the paint going where it's not wanted. The best part is after the paint is dry you peel it off the page. Seriously satisfying.
My all time fav masking fluid is Grumbacher Miskit Frisket. It's neon orange which is kinda weird when you are working in colors that don't mesh but it has a lot of good qualities that make up for the eyeball-blasting color. If you leave masking fluid on for too long sometimes it can stain. Of the masking fluids I've tried, Miskit Frisket stains the least. Which is is super important to me because I often work in many layers and layers take time. One last thing to note is that while they say that you can just wash the masking fluid off your brush with soap and water, your brush will never really be the same. I have one crappy brush that I use just for masking fluid.
PALETTES
Not much to say about palettes. I use porcelain mostly because I like the feel of it better than plastic. The nesting porcelain bowls are a great space saver and perfect for mixing colors but you also can't go wrong with a good ol' rectangular porcelain palette. It gets the job done.
PENS / MARKERS
I hunted for years to find the perfect white marker and I thought I finally found it only to have them discontinue it. UGH! Lucky for me I got tons of people who came to my rescue and suggest POSCA markers. Thank you my lil' angels because these are heaven! They have just the right amount of opacity and you can do some great detail work. I use the waterbased, bullet-shaped markers within the 0.7 mm tip for all my line work, no matter the color and it's perfection!
PAPER
Protecting our environment is important to me and since I work on paper, an easy switch to make was to start working on bamboo instead of traditional paper. Size depending, for both original artwork and prints I use Hahnemühle Bamboo Paper. It has a lovely texture and a nice warm tone to it. Honestly, since I switched I haven't noticed a difference other than I feel better using a rapidly renewable resource. In my opinion, it's worth the slightly increased cost.
SKETCHBOOK
I love to travel with my sketchbook. I love to stay home with my sketchbook. Basically, I just love my sketchbook. And apparently, other people do too because I'm always asked what type of sketchbook I'm using. Moleskine Watercolor Notebooks are perfect for offloading ideas and getting creative. I have both sizes and always travel with my little one (3½" × 5½"). There are plenty of pages and they hold up to a lot of washes without curling too much. Really I couldn't live without them.
Did I miss anything? Feel free to contact me if you have any other questions about the materials I use. I'm happy to share.